In Vitro Study Demonstrates the Benefit of Personalized Combination Therapy
An in vitro study was performed that illustrates the benefit of CureMatch's personalized combination therapy approach. The experiment used cancer cell lines that were derived from the tumors of patients. In the study, CureMatch used cell lines from human pancreatic adenocarcinoma tumors with eight mutations, two of which were deemed "actionable" – meaning that the CureMatch platform determined that these two mutations were known to be responsive to a specific drug.
Although the standard of care for this type of cancer is treatment with gemcitabine—the most commonly used chemotherapy option in the treatment of pancreatic adenocarcinoma—the CureMatch platform instead recommended a combination of two specific drugs ("Drug A" and "Drug B")* to simultaneously target the two actionable mutations.
In order to assess the efficacy of the recommended treatment, four scenarios were compared: (1) standard chemotherapy (gemcitabine); (2) personalized monotherapy using Drug A only; (3) personalized monotherapy using Drug B only; and (4) personalized combination therapy using both Drug A and B (the CureMatch-recommended therapy). A graphic representation is shown below, with the two actionable mutations shown on the DNA strands in red and green.

The effects of the drug treatments were measured using a cell viability assay, which measures the number of living cells remaining after treatment. Personalized combination therapy (the CureMatch-recommended therapy), at 1:1 concentrations of Drug A:Drug B, not only resulted in a significant increase in cell death compared to the personalized monotherapies (3-5 fold increase), but also in a significant increase in cell death when compared to standard chemotherapy (>20-fold increase).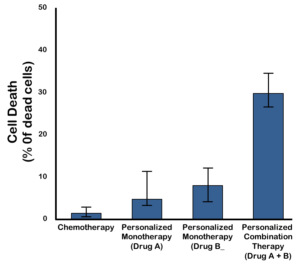 This in vitro data supports the notion that combinations of drugs specifically "matched" to actionable mutations present in a patient's tumor have the potential to provide greatly improved outcomes compared not only to standard chemotherapy but to personalized monotherapy. This the basis of the CureMatch approach.
The study was conceived, designed and conducted by CureMatch personnel. Publication of the study is in process.
*Specific names of the drugs used in this study are proprietary.