CureMatch Co-Founder Featured in WebMD Video "The Genesis of Immunotherapy"
WebMD Video highlights immunotherapy findings that have been incorporated into the CureMatch analytic platform.  
SAN DIEGO, CA – March 30, 2017 – WebMD has produced a new video, entitled "The Genesis of Immunotherapy" that features CureMatch Co-Founder and Chief Medical Advisor, Razelle Kurzrock, MD.
The video, from this WebMD video series "Immunotherapy for Cancer: A New Approach", discusses the origins of immunotherapy, the interaction between the immune system and tumor cells, success stories with immunotherapy, and the challenges of developing and paying for expensive immunotherapy drugs.
Dr. Kurzrock, a UCSD oncologist and the Director of the Center for Personalized Cancer Therapy at Moores Cancer Center, is featured prominently in the video, as is the Moores Cancer Center's Molecular Tumor Board, a multi-speciality weekly meeting that was established by Dr. Kurzrock.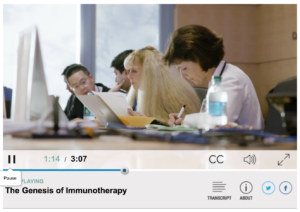 A group of oncologists and a cancer survivor describe inspiring stories of unexpected success using immunotherapy, even in patients with advanced cancers who had few options remaining. Dr. Kurzrock is quoted in the video summarizing her observations:
"The patients with what we considered just three or four years ago the most hopeless and the worst tumors are actually the patients that are the best patients. The more mutations, the more messed up the tumor, the better the immune system can recognize it."
CureMatch, Inc., the developer of a clinical decision support system that guides oncologists in the selection of personalized combination therapies, incorporates immunotherapy options when considering and ranking treatments for cancer patients. A case study was recently published in NPJ Genomic Medicine that describes the remarkable recovery of a patient who was given immunotherapy, following analysis with an early version of the CureMatch platform, while it was still under development at UCSD.
"For me the take-home message from the video is that all cancer patients should get their tumors sequenced," said Martin Culjat, PhD, VP of Product at CureMatch. "This opens the door to advanced treatment options, such as immunotherapy, that may have never been considered. At CureMatch, we have been gathering data from cases like these for years, in order to help oncologists better predict when immunotherapy would be expected to work, and when it would not."
The WebMD video also features Michael A. Postow, MD from Memorial Sloan Kettering Cancer Center, and Philip Greenberg, MD and David Maloney, MD, PhD from Fred Hutchinson Cancer Research Center.
About CureMatch
CureMatch™, Inc. is a San Diego-based digital health company focused on personalized medicine and combination therapy in oncology. CureMatch's Decision Support System guides oncologists in the selection of cancer drugs that are customized for individual patients based on their molecular tumor profile. CureMatch enables oncologists to become experts in personalized medicine by providing them with actionable intelligence towards advanced cancer treatment options. For more information visit www.curematch.com.
Media Contact
Martin Culjat
(858) 859-2873
press@curematch.com