Hatch Magazine Highlights CureMatch in Dubai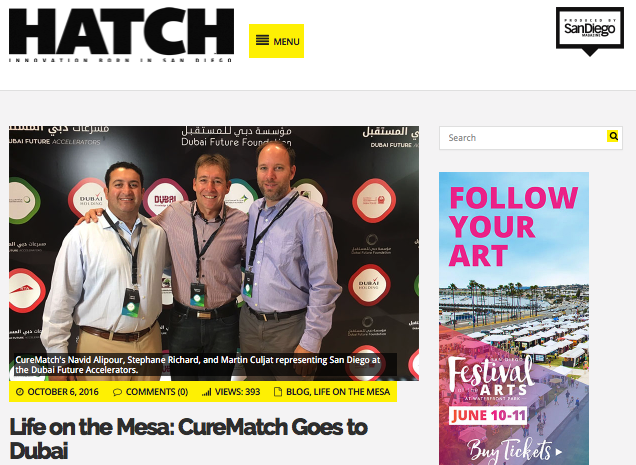 Amanda Caniglia of Hatch Magazine writes about startup CureMatch's acceptance into the Dubai Future Accelerators program. Navid Alipour, JD/MBA of CureMatch and Analytics Ventures is quoted in the piece:
"The Dubai Future Accelerators program had a less than 1% acceptance rate. They picked companies such as HyperLoop and CureMatch Inc., because their vision is bold. Dubai does everything big, and in the case of CureMatch, they want to make Dubai the epicenter of personalized precision medicine in the region and the world."
Dubai Future Accelerators is the largest government-supported accelerator that connects the world's most innovative companies, entrepreneurs, and businesses with leading government departments to create transformational solutions with a global impact. Backed by a 1 Billion AED fund (USD $275M), the uniqueness of this program lies in its drive to not only visualize innovative ideas, but to see them become a reality with an impact regionally and globally. Only 30 companies were accepted into the program out of 2274 applicants from 73 countries. CureMatch is one of only five companies selected from the healthcare space.
About CureMatch
CureMatch™, Inc. is a San Diego-based digital health company focused on personalized medicine and combination therapy in oncology. CureMatch's Decision Support System guides oncologists in the selection of cancer drugs that are customized for individual patients based on their molecular tumor profile. CureMatch enables oncologists to become experts in personalized medicine by providing them with actionable intelligence towards advanced cancer treatment options. For more information visit www.curematch.com.
Personalized cancer therapy has correlated with higher response rates, prolonged progression-free survival, and overall survival of cancer patients when compared to non-personalized approaches, in a meta-analysis of more than 330,000 patients enrolled in clinical trials.
The CureMatch Decision Support System allows oncologists to see results from millions of advanced cancer treatment options. This is clear concise actionable knowledge and insight oncologist look for to provide a standard of care which includes personalized medicine at the genomics level. For more information, visit www.curematch.com.
Stephane Richard, PhD and Martin Culjat, PhD also represented the CureMatch team with the Dubai Future Accelerators.