CureMatch Provides Optimism to Pancreatic Cancer Patients
"You have pancreatic cancer" – Shock, sadness, worry, and fear are all emotions that cancer patients may feel when hearing such devastating prognosis. To make matters worse, pancreatic cancer is expected to become the second leading cause of cancer deaths in the US by 2020 and stage IV pancreatic cancer patients have an average survival rate of only 1.5% after 5 years.1, 2 Pancreatic cancer is also difficult to detect because there are no signs or symptoms in early stages of the cancer. Additionally, early symptoms often share similarities with other types of illnesses resulting in either a wrong diagnosis or catching the cancer at an advanced stage.
Currently, most healthcare providers may suggest one or a combination of the following treatments:
Common Treatments for Pancreatic Cancer
Prescribed Treatment 
~% Patients Receiving Treatment
Treatment Description
Whipple Procedure

20%

Surgery which removes the head of the pancreas next to the small intestine or duodenum
External Beam Therapy
High energy x-ray radiation
Chemotherapy Drugs Alone or Combined with Erlotinib
80%
Usually gemcitabine, capecitabine, FOLFOX, or gemcitabine + erlotinib
Although the Whipple procedure and external beam therapy are effective in treating pancreatic cancer, they can only be administered if the cancer is diagnosed early. Because current diagnostic tools have failed to provide early detection in many cases, only 20% of patients are able to receive either surgery or external beam therapy. Thus, most patients must rely on pharmaceutical treatments.2, 3
Inspection of clinical trials treating pancreatic cancer show that over 72% of them use chemotherapy drugs. From the chemotherapy drugs administered, the majority use gemcitabine and report a short 4-month progression-free survival value (the amount of time until the disease begins to progress in patients). Only 28% of clinical trials employ a more targeted strategy which consists primarily of combining gemcitabine with erlotinib (a drug specific to inhibiting the epidermal growth factor receptor or EGFR). Yet, combining gemcitabine with erlotinib yields a similar progression-free survival value as gemcitabine alone.
These results raise several concerning questions:
Why are the same treatments being given despite a clear lack of success?
Why does the more targeted method of using erlotinib combined with gemcitabine not work?
Unfortunately, especially with pancreatic cancer, all of this appears to be indicative of resignation on part of the healthcare industry. For one, the targeted strategy of combining gemcitabine with erlotinib is ineffective because it ignores the uniqueness of each patient's tumor, and while the treatment may work for some patients, it will not work for everyone. Additionally, EGFR mutations are not very prevalent in pancreatic cancer (~7% of patients carry an EGFR mutation) making erlotinib an ineffective treatment. Second, few healthcare providers are willing to break the status quo and try different treatments. However, the last thing pancreatic cancer patients want to hear is that there is no hope and are instead given a treatment that we know won't and hasn't worked in the past decade.
Luckily, there is a fourth option: CureMatch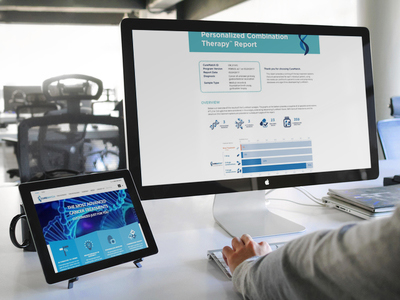 As a trailblazer of precision medicine, CureMatch offers oncologists a report that can guide selection of personalized therapies, including targeted therapy, immunotherapy, hormone therapy, and the latest cancer drugs, either alone or in combination.
By analyzing more than 4.5 million different drug regimens and ranking the most advanced cancer treatments using supercomputing technology, the best drug regimen is selected based on the genetic profile of the individual.
As exemplified in one study, based on the genetic profile of a patient with pancreatic cancer, trametinib (a drug specific to inhibiting the mitogen-activated protein kinase pathway) was predicted by the CureMatch scoring system to have one of the best outcomes for that patient. As projected, this patient had a Time to Failure of 10 months (time of treatment to disease progression) which is an exceptional response.4
Even if some drugs are not covered by insurance companies for some diseases, the CureMatch software considers the latest research on biomarkers (which are gene mutations present in cancer patients that are known to increase the drug's efficacy) for available drugs. Doing so, CureMatch analyzes FDA approved drugs most appropriate for each patient.
Still, CureMatch is much more than just curated databases and complex algorithms, it is a company composed of scientific individuals who are constantly on the lookout for the latest cancer discoveries. For example, it has been revealed that one of the boundaries to treating pancreatic cancer is partly attributed to the pancreas stroma as shown below:

Fig 1: The left image show tissues of a normal pancreas, while the image on the right shows cancerous pancreatic tissue. The main difference is the fibrotic and poorly diffused stroma that is evident in the right image.
Due to the dense and fibrotic stroma, it is difficult for drugs to reach its target site and effectively kill cancer cells. To circumvent this impasse, new nanoparticle drugs (which can penetrate the stroma) or hedgehog inhibitor drugs (shown to damage the stroma) may be part of the solution in treating this disease. The CureMatch decision platform takes these scientific discoveries into account and may suggest a drug combination that also contains a hedgehog inhibitor and/or a nanoparticle drug.
Ultimately, your healthcare provider is likely to be resigned to the same ineffective one-size-fits-all approach; this is not only devastating to the patient, but is also unfortunate for the pancreatic cancer research community in general, which has found many more promising solutions.
Hope For Pancreatic Cancer Patients
CureMatch can guide the oncologist to take an innovative approach that considers all possible treatment options and personalizes them specifically for each individual patient.
-Alexander Schperberg
Key Statistics for Pancreatic Cancer. Available at: https://www.cancer.org/cancer/pancreatic-cancer/about/key-statistics.html. [Accessed: 7th April 2017]
Mosquera, C., Maglic, D. & Zervos, E. E. Molecular targeted therapy for pancreatic adenocarcinoma: A review of completed and ongoing late phase clinical trials. Cancer Genet. 209, 567–581 (2016).
National Cancer Institute. (2017). Pancreatic Cancer Treatment. [online] Available at: https://www.cancer.gov/types/pancreatic/patient/pancreatic-treatment-pdq [Accessed 4 Aug. 2017].
Garrido-Laguna I, Tometich D, Hu N, Ying J, Geiersbach K, Whisenant J, et al. N of 1 case reports of exceptional responders accrued from pancreatic cancer patients enrolled in first-in-man studies from 2002 through 2012. Oncoscience. 2015;2(3):285‑93.
Figure 1 image provided by:
Institute of Molecular Biology and Tumor Research: Imt.uni-marburg.de. (2017). IMT Marburg – AG Lauth – Research. [online] Available at: http://www.imt.uni-marburg.de/lauth/research.php [Accessed 4 Aug. 2017].